Mfg 1966 LOA 179' Beam 31' Draft 10'9" Depth 15'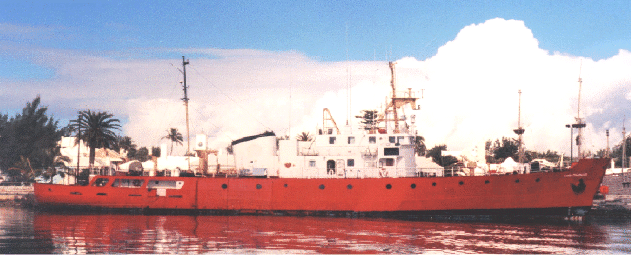 Range 8500 miles
Speed 15 knots
Sea Trials at 14.7 knots
Fuel consumption approx. 55 gal per hour (two engines, one generator)
Class 3 Icebreaking capabilities
Mid life complete refit 1988
Asbestos free
2 by 1280 HP FM Engines
3 by 215 k Caterpillar Generators 60 cycle
Recent ultra sound of hull...clean
Gross Tons 751
Registered Tons 188
16 single cabins (6 with private BR w/shower)
3 double cabins
exceptional galley (stainless steel, day fridge, walk-in cooler, walk-in freezer)
2 messes
2 recreational areas
2 offices
laundry
stainless steel bakery/pantry
large wheel house with separate large radio/chart room
Regular Inspections by Ship Safety Branch
Annual maintenance and refits contracts read
"must meet and/or exceed Canadian Shipping Act (C.S.A.) and regulations".
Listing of fuel tanks.
Port tank 3748.25 gal
Starboard tank 3748.25 gal
Port centre tank 4342.80 gal
Starboard centre tank 5165.16 gal
Port wing tank 8065.20 gal
Starboard wing tank 8065.20 gal
Total 33134.86 gal
The electronic equipment includes:
Sperry Gyro Pilot (SRP 690)
Sailor VHF Type RT144B
Raytheon SSB (RAY 152)
Icom VHF Model M45
JRC Loran-C
Garmin GPS
Racal-Decca (BT502) Radar
Elac Depth Recorder
Autronica Fire Control System
plus Prime Moving Control and Wing Controls
Vessel is single prop and no thrusters.
This vessel underwent a major mid-life refit in 1988-89. Government documents indicate this would increase the ship's life by 35 years.
There is a parts inventory on board valued in excess of $300,000 USD. The vessel is capable of going to sea within 24 hours. You will find her listed in Janes Fighting Ships as the Chebucto.
Ideal usage would be as: armed patrol vessel, research ship, or conversion to Private Yacht.
In August 1999 a Marine Consultant and Surveyor attended the ship to conduct a survey "for the purpose of ascertaining its general condition and approximate value." The results in highlight form are:
The vessel has five year certificates (issued August 1999) for: International Load Line
I O P P
International Tonnage
"The vessel is in exceptionally good condition for its age,…"
"SUITABILITY FOR CONVERSION
The vessel has very good stability, well in excess of IMO requirements, which means that conversion scenarios involving top weight increase, such as a helideck, are entirely feasible."
"APPRAISAL OF VALUE
"Based on a residual life of at least ten years, a current world market replacement cost of about USD 18 million, current value of the 1989 refit of USD 6 million,… I appraise the depreciated replacement value (DRV) as approximately USD 6 million."
$2.4million
$2 million