Floating Barge Hotel (under construction)
SOLD
---
. The Floating Hotel project is Danish, and the hull has been built according to Danish design and international standards and under survey and to class of Lloyd's Register of shipping: + A 1., ACCOMMODATION BARGE, PROTECTED WATER SERVICE+LMC.
The Floating Hotel was built in a Ukrainian shipyard , Black Sea - the
best Military Ship Yard in the former USSR.

In order to achieve maximum flexibility of outfitting, only the hull (steel) part of the Floating Hotel has been finished, windows and ladders installed, armature and piping in hold fitted, preparation for hull insulation made, cabletrays fitted, the outer hull painted in
white.
At the present moment there is a possibility to start immediately the works on outfitting the Floating Hotel according to customer's specific requirements and according to specific future operation (of course including Casino mode).
The Floating Hotel may be equipped (completion) for various uses:
- Hotel (de-lux or semi de-lux),
- Floating Casino,
- Offices,
- Commercial (business) centre or combination,
- Hospital, - etc.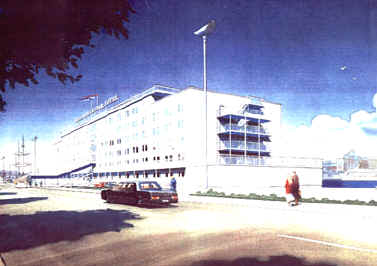 Artists impression
---
Possible number of rooms (cabins) -
250 (abt 20 sq.metre/per room) - of course any combination.
For for example 150 de luxe rooms per 33 sq.mtr.
Number of floors - 7.
Hull's length - 95 m, Hull's width (maximum) - 22 m,
Draught (maximum)- 3,5 m
Overall height - 21 m
The Floating Barge Hotel is an ideal combination of hotel/casino and business centre which includes all conveniences of an ordinary coastal hotel in combination with the additional facilities of an autonomous passenger ship. At the same time the total cost of construction of such a Floating Hotel is much less than that of coastal hotel and therefore the term of
refunding of investments is much less than the case of Flotel's construction.
Price $ 980,000 (as/is where).

We have two FH's in the same condition.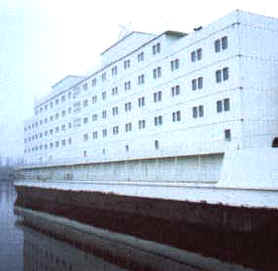 Photo