Built 1989
LOA 158,712 m
BREADTH 13,20 m

GRT 12,215
NRT 6,470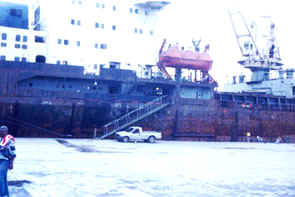 MAIN ENGINE

1 x K8SZ 52/105 CLE (Man Licence)

GENERATORS


- AUXILIARY 3 x 6R 251 CGE LICENCE ALCO
EMERGENCY GENERATOR 1 x 6VD 21/15-2 SKL GERMANY
STATIONARY 1 x D 120 N

CRANES
TWIN MARINE LIFTING CRANE
TYPE STBD 63 12,5 T / 25 T - Twins
HOLDS 4

Price $2 mio*

*The ship is in need of repairs, mainly to the engines, this is due to lack
of finance available for spare parts, total cost for all repairs and dry dock to paint is approx
$1,500,000. maximum.
This is not included in the selling price.

I have a list of major problems based on the log of
the Chief Engineer,mostly it is engine overhaul problems
which are normally done by the engineers on the ship
but due to owners financial problems,no spare parts
were available,so the work could not be done.(the
parts are readily available in both Germany and
Romania, probably cheaper in Romania.)
I am in the process of obtaining quotations for the
spare parts and on receipt of them will be able to
give you a much better idea of the cost involved , this
should take a few days ,but I am sure that the figures
I have quoted well cover the amount involved.

Basically the main engine needs piston rings ,a new
cooler system or repair old one ,repairs to exhaust
gas chamber ,armature and baffles.
No 2 aux engine :needs overhaul and decoke.
No 3 aux engine :needs new piston rings, chambers and injectors.
Stationary generators :need overhaul.
Emergency generators need overhaul ,piston rings
injectors, filters, batteries, and belt transmission.
Air compressors : need spare parts.
Main boiler : Overhaul and spare parts.
Separators : To be checked.
Electromotors :2 new requires,10 to be rewound.
Some sheet metal to repair 2 interior gangways.
Dry dock to paint ship.
Pump openings need adjustment.
Tightness of stern and anode protection .
Navigation gear to be checked.

We are informed that this vessel has been arrested. we will update as and when we learn more.