Type of vessel; Hydrofoil Catamaran
Year of build 1992
Built By Westamarin
Classification society DNV
+1A1 R 90 Light Craft Passenger Catamaran EO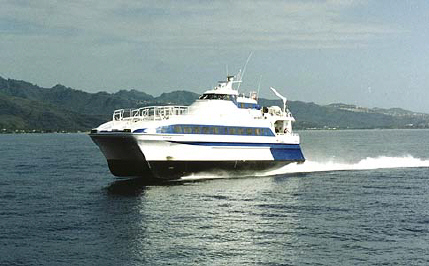 Length Overall 29.25m (95ft)
Breadth 8.36m (27ft)
Draft 3.7m (12')
GRT 243 ITC
Passenger capacity 140
Speeds 38 knots SS 3 to 4, 45 knots calm, 50 knots max.

The Foilcat 2900 is a 140 passenger, state-of-the-art high performance hydrofoil-assisted catamaran. She is fitted with an electronic ride control system yielding a comfortable ride in rough sea conditions. The Foilcat 2900 began ferry service in Denmark in 1992 and was later in service in Indonesia. Since her purchase by Pacific Marine & Supply Co., Ltd. in 1997 she has been completely overhauled and refurbished.



Click above to see interior pictures more clearly

Propulsion

Ulstein Speed-Z

2 Main Engines: MTU 16V 396 TE 74 L 2000kw @ 2100RPM




4,600 hours

2 Generators: Stamford UCM 224G 65kVA, 3x230v, 50hz


New Ulstien Speed-Z drives installed 1998
Navigation Equipment
2 HS radars 2 DGPS Gyro compass CCTV Night Vision system
Stabilization Electro-hydraulic flight control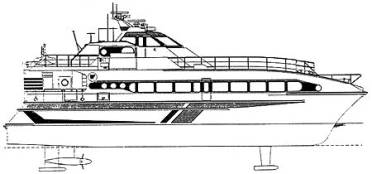 Foilcat Plan Profile and Section



Foilcat at speed fully lifted Foilcat in harbor hull borne
Withdrawn.
Please do not e mail asking for this particular vessel as it is no longer offered for sale.