BUILT April 1982 by Imamura Zosen SB Japan.
LOA 39m
Beam 8.5m
Depth 3.5m
Max Draught
GRT 363 tons
NRT 109 tons
Height of deck 2.4m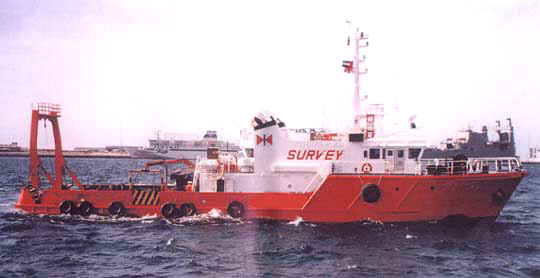 Main Engines
2 Yanmar T220A-ET,total 2200 SHP @ 850 rpm,driving
fixed pitch propellers in Kort Nozzles with Variable
speed clutches for sustained slow speed manoeuvering
Bow Thruster
Omni-directional Schottel cone jet type SKI 87
developing 1.5 tons thrust with YanmarCHAL-HTN @
240 bhp diesel engine

Generators

3, units @ 128 Kw 440V, 50Hz, alternators driven by
Yanmar 6HAL-HT diesel engines.

SPEED & CONSUMPTION

Max speed at 110% MOR 12.5 knots
Speed at economical output, 11 knots
Consumption about 6.4 tonnes/day at max MCR
About 5.4 tonnes per day at economical speed
About 3 tonnes per day during reduced speed Survey operations

CAPACITIES

Clear Deck Area l0.97m by 6m =65.82cu.m.
Deadweight 272 tonnes
Fuel 103cm.
Potable water 54 cm.
Optional:Ballast Potable water 25 cm

DECK EQUIPMENT

Mooring ; Electro-hydraulic windlass 5 tonnes x 12 metres /min.
with 2 x 600 kg AC 14 type anchors and 2 x 220 m x25 mm
(8 shackles x 1") chain with buoy mooring drum.


Click on the plans to view
Tugger Winches Electro-hydraulic 5 tonnes x I5m/min drum capacity 100 m x 20 mm wire. Deck Crane Hiab 1165 hydraulic 3 tonnes SWL at 3.6 m
Capstans 2 x 5 tonnes at 12 rn/mm electric stern capstan
A' frame 5 ton hydraulic articulated
ACCOMMODATION
Officers 2 x 1 berth
Crew 4x2 berth
Charterers 2x1 berth
1x2 berth
1x4 berth
Total 18 berths
Fully Air-conditioned with duplicated machinery, for redundancy.
ELECTRONICS
Radar 1 x Raytheon R41 daylight radar,Sat 32 miles range
I x Furuno FR 1011, 72 miles with gyro stabilisation
Echo Sounder Krupp Atlas DESO 25 with 33 khz & 210 khz
transponders for navigation and Survey work.
Auto Pilot Tokyo Keiki
Gyro Compass Robertson SKIR 80 (meets survey requirements)
SSR Radio Furuno FS 1500,150w semi-synthesised
VHF Radio 1 unit Sailor RT 401 GMDSS hand held radio Nabico 2 pieces
Intercom P.A System
Navtex Lo-Kata
Other GMDSS fitted - 1999
MISCELLANEOUS
Cargo Hold 41 cu.m. (1450 c.ft)
Passive Stabilisation Tank
Clean power workshop /laboratory
Large air-conditioned wheelhouse.
Space and facilities for surveyors.
Assortment of power supplies for surveyors;AC: 440V, 220V, I IOV, @50Hz. DC: 12V
Wood Sheathed main deck
Trailing flap rudders for increased manoeuvrability
Zodiac inflatable workboat

The Vessel is continually maintained to a high standard., in class, clear of conditions or recommendations.The vessel is maintained on 30 month dry docking cycles AHS,AMS,DD,HGS,SSH.SSM and LL all done 6th March 1997, next schedule docking due in October 1999.The next special survey is due on 31st March 2002. Owners are UK who will ensure all certificates will be in force before sale.
SOLD