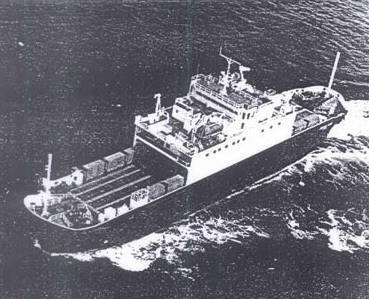 DOUBLE-ENDED DRIVE-THROUGH SHUTTLE FERRY/SUPERFLEX TYPE - MARK III
BUILT 8/1987 NORTH SHIELDS SHIPBUILDERS LIMITED, SUNDERLAND, U.K.
CLASSED LR +100A1 FERRY SKAGERAK KATTEGAT AND BALTIC SERVICE TO
BORNHOLM AND SCAND. COASTAL SERVICE +LMC
THE 10 YEAR SPECIAL SURVEY WAS PASSED IN APRIL 2000
- SOLAS 92 - TWO COMPARTMENT VSL - A/AMAX 0.959 (NO FURTHER UPGRAD.)
1.330 MTDW ON 3.62M DRAFT FULLY LOADED (2.58M LIGHT)
- 4101/1230 GT/NT - 1754 MTNS LIGHTWEIGHT
95.81M LOA/90M LPP/15.02M BEAM (17.00M RAMP SPONSONS)/4.93M DEPTH
MAINDECK/9.88M DEPTH WEATHERDECK
CAPACITY 336 PASSENGERS SUMMER/328 WINTER. NO PASSENGER BEDS. HAS
AT PRESENT CERT FOR 222 PASS IN SHORT INTL TRADE VIEW LIFESAVING
APPLIANCES. IN ORDER TO SAIL WITH 300-336 PASS IN SHORT INTL TRADE
VSL WILL NEED MORE LIFESAVING CAP F.INST. MORE LIFEBOAT CAPACITY
- 2 TRAILERDECKS - 4.20 M FREE HEIGHT ON BOTH DECKS
TTL CAP 22 X 18 M TRAILERS + 44 CARS ALTERNATIVELY TOTAL 140 CARS
(MAIN DECK: 14 X 18M TR + 12 CARS ALTERNAT. 80 EUROPEAN CARS
UPPER DECK: 8 X 18M TR + 32 CARS ALTERNAT. 60 EUROPEAN CARS)
MAINDECK AND UPPERDECK DESIGNED FOR 8 TNS AXLE LOAD
BOW/STERN DOORS/RAMPS TO MAINDECK
8.70 M LONG RAMPS/4.0 M WIDE/4.75 M DOOR HEIGHT HYDR. OPERATED
DIRECT ACCESS TO UPPERDECK THROUGH QUARTER RAMPS 6.0 M LONG (ONE
FORE/ONE AFT - DRIVEWAY 3.5 M) CONNECTED TO FIXED SHORE RAMPWAYS
DIESEL-ELECTRIC SYSTEM. PROPULSION BY 4 SCHOTTEL FIXED BLADED
AZIMUTH THRUSTER UNITS SRP350/350 (ONE IN EACH "CORNER"). BOTH
PROPULSION AND AUXILIARY MACHINERY POWERED BY 10 X CUMMINS
NTA855G2 DIESEL ENGINE DRIVEN MARKON ALTERNATOR POWERPACKS (PETBOW)
IN CONTAINERS ON UPPER TRAILER DECK, THUS NO NORMAL ENGINE ROOM
ABT 12.5 KN SERVICE SPEED ON ABT 12 TNS GASOIL
6 CREWCABINS WITH SHOWER/TOILET - IN SHORT INTL TRADE WITH 222
PASS THE NUMBER OF CREW IS 10 AND IF TRADING DOMESTICALLY WITH
336 PASS THE NUMBER OF CREW IS 11
RESTAURANT/LOUNGE (PART OF IT CAN BE ARRANGED AS TAXFREE AREA)
SATTELITE NAVIGATION
AIRCOND IN CABINS.

Owners managers invite best offers from interested parties.