Built in 1986 to Lloyds class
Dry weight: 5 tons
Length: 6.30m
Height:2.16m
Beam: 2.25m
Draft: 1.20m
<![if !vml]>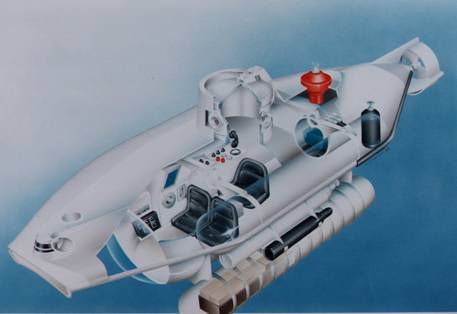 <![endif]>
See below for more pictures of this submarine at work which can dive to up to 600 feet deep (200m)
Engines: 2 37D diesel engines 4,600 hp;
2 electrical engines 2,500 hp; 2 shafts
Speed:2 knots surface;
13.5 knots submerged
Range: 12-15,000 miles
Depth: 200 meters;
Tested in the slingsby test chamber at 260m (840ft) with collapse depth at 600m (1800 feet)

Power source; Rechargeable lead-acid batteries-23Kwh
120vdc (160Ah),
24vdc (160Ah),
12vdc (320Ah).
Emergency 12vdc (80Ah).
Diving endurance is 8 hours with 2 crew but there is an emergency life support system of up to 72 hours (seventy two hours)
Pressure Hull. Cylindrical shape with two hemispherical end caps. S1S2103 steel.
Hull diameter 1.2m. Length 3.1m. Hull thickness 12mm.

Coning tower. Diameter 0.6m. Hatch diameter 0.6m (24 inches).
Viewports 4 x flat acrylic (340mm) forward looking.
Main viewports 70mm thick.
4 x Conning tower (120mm)
1 x hatch viewport (90mm)

A small, lightweight two-man submarine with an operational depth of 600ft (200m).
Built in Europe to a very high technical standard that offers a relatively spacious interior
and a full range of safety features. Ideal for underwater filming, scientific research,
search and salvage. Also for yacht-based activities, and for private recreational buyers.
This submarine is dive ready, and immediately available for sale.
A pilot training programme can be arranged at your location if required.
Battery pods (port and starboard) 462mm diameter, 3.2m long.

Life Support
Three external oxygen cylinders.
Reserve oxygen 2 x 10Lt (72 hours).
Main oxygen 1 x 5Lt (8 hours).
Total of 25Lt @ 200bar (3000psi).
Two CO2 scrubbers.
Emergency Sodasorb for seventy-two hours.
Monitors for O2, CO2, temperature, humidity, and internal pressure.
BIBS with face masks.

Maneuvering Control
Main forward propulsion is provided by a fixed reversible stern-mounted thruster, with hydraulic activated rudder.
Vertical and lateral propulsion is provided by four reversible thrusters.

Ballast
The MBT soft ballast tanks (port and starboard) have a capacity of 650Lts (total 1300lbs).
Two x HP Air cylinders, each 50Lt x 3000psi (200bar).
The VBT (2) hard ballast tanks have a capacity of 50lts each. Total 100lts (200lbs).

This submarine has many possible uses, including adventure tourism, research, wreck recovery,
and just having a superb peice of kit for the person who has everything else..
<![if !vml]><![endif]>


<![if !vml]><![endif]>

<![if !vml]><![endif]>

Optional Equipment Available
Sonar (option available).
Manipulator arm (option available).
External video and still cameras (option available).
Acoustic tracking (option available).
Additional external lighting (option available).

<![if !vml]><![endif]>

Surface Support Equipment
Battery chargers and cables for 120vdc, 24vdc, 12vdc single phase 220vac).
VHF radio
UQC underwater communications
Manuals and dive logbooks.

<![if !vml]><![endif]>

Other Features.
Two external Lights (24vdc, 250w each).
Internal lights (red glow)
Fluxgate compass.
Echo sounder.
Through water communications UQC (Helle).
Surface communications VHF.
Emergency marker buoy.
Emergency drop weight (160lbs).
Emergency water
Emergency O2 and CO2 gas detector tubes
First aid kit
Halon fire extinguisher


<![if !vml]><![endif]>
<![if !vml]>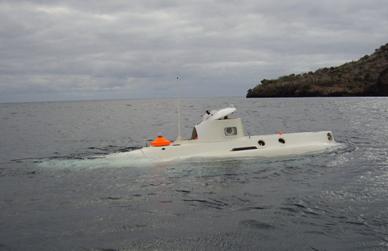 <![endif]>
Price $400,000 US
We do have access to a world war 2 (WWII) submarine,
so if you are interested, get in touch with us below.